Certified B Corp
Solidarity Capital Group is proud to be among the world's first 1000 Certified B Corps!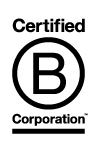 Certified what?   Certified B Corporation…
B Corporations are a new kind of company that uses the power of business to solve social and environmental problems.  Certified B Corporations also meet rigorous standards of social and environmental performance, legally expand their corporate responsibilities to include consideration of stakeholder interests, and build collective voice through the power of the unifying B Corporation brand.  (It's like Fair Trade certification or LEED certification, but for the whole business, and not just for a coffee or a building.)
Why we became a Certified B Corp
Our fund investors hold us (as fund manager) to the same high standards – impact, accountability, transparency – that we have for the enterprises we invest in.  So it's a no-brainer for us to embrace the same Certified B Corp designation and responsibilities that we value and seek when sourcing and screening prospective companies for our portfolio.
Having first encountered the B Impact Assessment as an Investors' Circle member, and again as a lynchpin of the GIIRS methodology that is integral to our positive impact reporting at the fund level – we're excited to now be joining and growing the global community of Certified B Corps that share our commitment to building a just economy, and to being our best for the world.
The Change We Seek ®
At root, Solidarity Capital Group seeks a deepening conversion, or turning, to being more for others than for ourselves – and seeks this change first within ourselves.  And while we cannot change ourselves by ourselves, we can do our part:  trying to "be change… to be changed"™.  Then we invite others along on this transformative journey, by creating opportunities for more people of diverse faith or goodwill to invest themselves alongside us, opening themselves to change.  This is the change we seek at a personal level.
The second change we seek is the fruit of the first.  At this level, as more people are drawn into financing innovative social entrepreneurs…  these can then extend their important work serving marginalized people and needs in our community.  This is the change we seek at the community level.
Finally, we believe there is something at work here that is still more profound than aligning and directing private capital to good works at a time when public and philanthropic budgets are retrenching.  This is fostering impact investing, not only as yet another tool to address the present crisis, but even more so to build a more just, sustainable, and people-centered economy for the future.  This is the change we seek at a societal level.
Solidarity Capital Group is inspired by the promise and practitioners of social entrepreneurship and impact investing, which represent a genuine sign of hope, a potentially powerful instrument, and even for many a movement of the Spirit.  We aspire to encourage this movement in our region by capitalizing a place based social justice investment partnership – both to serve our local community, and to contribute yet another model to an industry that is rapidly innovating and emerging in myriad models and places.
These are the aspirations of Solidarity Capital Group.
'B Corp', 'B Corporation', and 'the change we seek' are trademarks of B Lab, Inc.