Team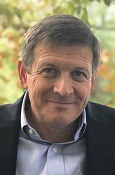 Steve Monti, Managing Director
Steve is an active angel impact investor and Founder and Managing Director of Solidarity Capital Group and Solidarity Capital Fund, an impact investment firm and fund that finances economically sustainable social enterprises.
His background includes a 20 year IBM management career including key roles launching, leading, or accelerating four internal startup ventures.  He has global experience in two dozen countries, is an alumnus of the Venture Capital Institute and of Stanford University and Duke University, and a member of the Investors' Circle national impact investors' network.
He is a founding member of the Investors' Circle NC local network; a board member and/or advisor for several early stage companies; recent chair for the Duke Catholic Center;  and serves the real estate and finance committee of Passage Home, Inc.  Steve is married with two daughters and one son, and lives and works in the Research Triangle region of NC.

Randy Jones
Randy has 30 years of experience as a senior executive, attorney and engineer in a wide range of industries including non-profits, pharmaceuticals, energy, chemicals and environmental services.  From 2009 to 2012 he was Chair of the Board of Triangle Pastoral Counseling, Inc. in Raleigh, NC.  He currently serves as a Founding Director for Uniting NC, Inc.  Previously, Randy served as Executive Vice President – Legal and Performance for Builders of Hope, an affordable housing development non-profit;  in a range of C-level executive roles at Bayer HealthCare and Talecris Biotherapeutics Inc.;  as Vice President and General Counsel for the North American operations of Aventis CropScience USA;  and as Managing Director and Assistant General Counsel for Molten Metal Technology Inc.  Before law school, he was an engineer for the Shell Oil Company in New Orleans and the Standard Oil Company of Ohio (now BP) in Cleveland.  Randy holds a Bachelor of Chemical Engineering from the University of Delaware in Newark, DE and a Juris Doctor from the University of Virginia in Charlottesville, VA.

Dan Rearick
Dan Rearick is an attorney at the N.C. Justice Center, a nonprofit organization focused on addressing and eliminating poverty in North Carolina.  Dan also works extensively with other statewide and national nonprofits, including as a co-founder and board chairman.  He previously worked at a law firm in Washington, D.C. as a litigation associate and as a law clerk in federal district and appellate courts.  Prior to practicing law, Dan attended the University of North Carolina at Chapel Hill and Harvard Law School.  A native North Carolinian, Dan has also studied or worked in Europe, South America and Africa.  He believes wholeheartedly that both investors and society at large can benefit from funding innovative social entrepreneurs.

Mike Tadych
Mike is a practicing attorney and founding partner of Stevens Martin Vaughn & Tadych, PLLC.  His areas of practice include Administrative law, Commercial and Insurance litigation, First Amendment and Communications law and litigation, Intellectual Property, Occupational and Professional Licensing, and Sports and Entertainment law.  Prior to practicing law, he also has had experiences in television production, aerial video photography, graphics design, desktop publishing, editing corporate newsletters and public relations.  Mike is a native of Berea, Ohio, and a graduate of Indiana University and of the Case Western Reserve University School of Law.  He serves on the Boards of the Justice Theatre Project and the Downtown Raleigh Rotary Club – NC's oldest civic club; and has previously served the Board of the Wake County Bar Association, as its Communications committee chair and past editor of its newsletter. Mike and his wife Denise have three children.  He plays water polo regularly, runs with his dog Molly a few times a week and gets beaten by his wife in tennis most times they play.

Jeanne Tedrow
Jeanne is a co-founder and the CEO of Passage Home, a nonprofit community development corporation established in 1991 to offer housing, economic development, youth development and neighborhood revitalization services within Wake County, North Carolina.  Through her committed leadership over two decades and with the partnership of many local faith communities, Passage Home has become a nationally recognized community development organization that effectively and compassionately assists homeless families, previously incarcerated individuals, those in recovery and low resource neighborhoods.  Jeanne has also served as the Co-Chair of the Wake County Continuum of Care and actively serves the City of Raleigh Affordable Housing Task Force, the Justice Theatre Project, and the North Carolina Community Development Initiative.

Return to top